In the 16th Academy Awards, 1944, the first Oscar ceremony held at a large public venue, Grauman's Chinese Theatre, William Saroyan won the Oscar for Best Story for the 1943 comedy-drama film The Human Comedy. The film was also nominated for Best Actor in a Leading Role (Mickey Rooney), Best Cinematography, Black-and-White, Best Director, and Best Picture.

Saroyan's encounter with Hollywood actually began several years before he set to work on ''The Human Comedy.'' In 1934, when Metro Goldwyn Mayer (M-G-M) had purchased Franz Werfel's celebrated novel ''The 40 Days of Musa Dagh,'' they received a telegram from William Saroyan announcing boldly, ''I AM THE ONLY ARMENIAN WHO CAN WRITE THE SCREENPLAY.'' But M-G-M dropped the project under pressure from the Turkish Government, and so they had to inform Saroyan that there was no need for his services.

M-G-M chieftain Louis B. Mayer, who was one of the fans of ''The Time of Your Life'', was determined to bring Saroyan back to Hollywood. Mayer offered the writer $300 a week simply to come to the studio and look around, and so four years after his first Hollywood safari, Saroyan returned to town. He hired his old pal, one of Hollywood's most prominent and colorful book-sellers, Stanley Rose, to act as his agent. According to Budd Shulberg, the two of them made a striking pair as they strolled the corridors of M-G-M. ''They were a sight, those two strays from the honky-tonks, swinging their weight around the stately halls of Metro, calling the imperious L. B. 'Louie' and twisting him around with a flamboyance that none of the movie greats had ever dared.''

Saroyan reportedly wrote his script in 18 days. M-G-M bought the 240-page script for approximately $60,000. Variety commented that Saroyan's "initial original screenplay is a brilliant sketch of the basic fundamentals of the American way of life, transferred to the screen with exceptional fidelity." Studio heads acclaimed it a 'masterpiece' until advised that yarn would consume nearly four hours of running time and even when it was in rough-cut form it ran about 170 minutes.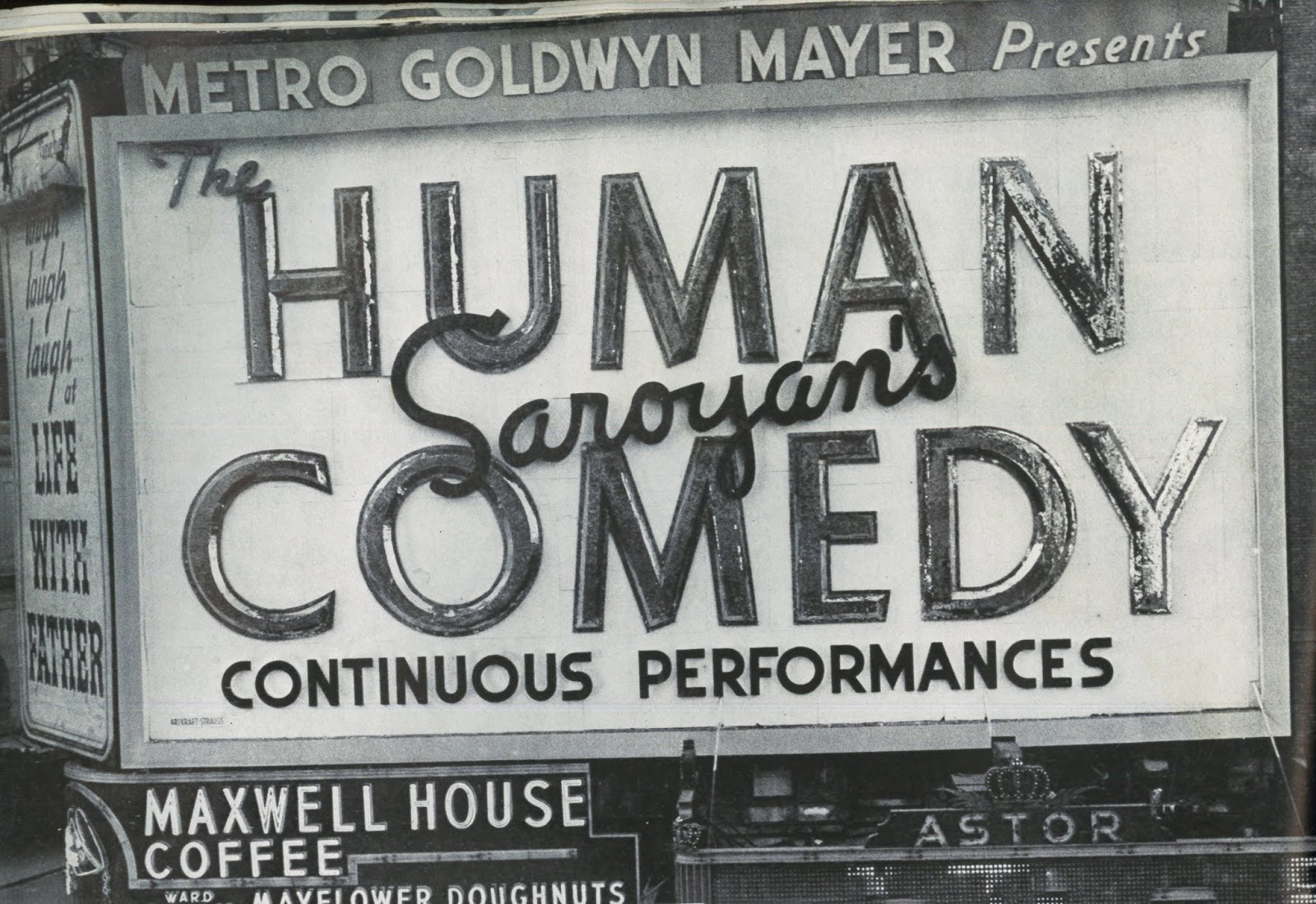 Saroyan was also trying to negotiate to produce and direct the picture. M-G-M head Louis B. Mayer, however, asked him if he had ever directed a movie. Saroyan answered he had not, but said he was sure he could. According to Saroyan, he told Louis Mayer that if he was given just three days and technical support he would write, produce, and direct a short film for the studio as a test piece. Mayer agreed and three days later Saroyan brought in a twenty-minute film called The Good Job, based on his story "A Number of Poor" of 1939. Sam Marx remembers it as being ''some kind of documentary interviewing people around Los Angeles.'' The film was appreciated by Mayer and others at M-G-M and was ultimately released as an "M-G-M Miniature". Nevertheless, in May 1942, they refused to allow Saroyan to direct The Human Comedy, and announced that King Vidor was to direct the film. Sources disagree as to whether Saroyan was dropped because of the poor quality of the short, or because of the length of his script for The Human Comedy. Angry, Saroyan walked off the M-G-M lot and returned to his home in Central California, where he then quickly wrote the novel version of his story on the advice of his editor from Harcourt Brace. It was published just before the film was released and became an instant best-seller. Saroyan even offered $80,000 to buy the project but M-G-M refused. Later, Mayer said that this was his favorite film.

Saroyan took his own revenge against Mayer when he wrote a play called ''Get Away Old Man,'' which opened on Broadway in the fall of 1943. The play is about a short-story writer who goes to Hollywood and works for an egomaniacal studio mogul named Patrick Hammer. Saroyan claimed that the character of Hammer was not based on Mayer alone, but Mayer was outraged - and understandably pleased when the play closed after just 13 performances.

A few years later Saroyan ran into his old nemesis at Hollywood Park Race Track. Mayer invited Saroyan to his private box, but Saroyan declined. Mayer also advised Saroyan to bet on his horse in the seventh race. But Saroyan chose to follow his own instinct. Not surprisingly, Mayer's horse won. Saroyan summed up that encounter in a Saturday Evening Post article he wrote in 1963: ''Perhaps I should have bet his horse, though. But again, I wanted to be free. I wanted to bet my own horse. Not a horse I owned, as Mayer owned his, but a horse that I liked. I liked the favorite, and it ran second.''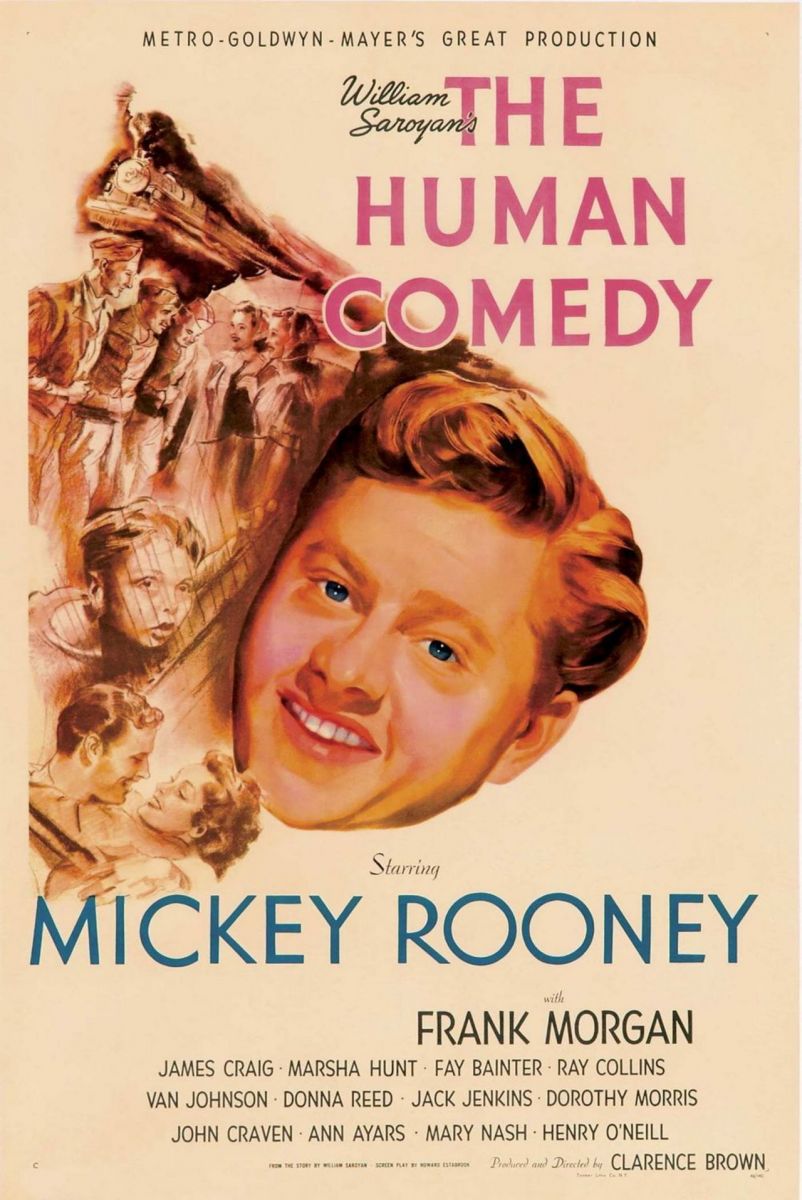 In Jul 1942, Clarence Brown was assigned to direct the film, and Howard Estabrook was hired to trim Saroyan's screenplay to a two-hour length. The picture stars Mickey Rooney and Frank Morgan. It is a story of a teenaged Homer Macauley in high school, working part-time as a telegram delivery boy, in the fictional town of Ithaca, California, during World War II. The effects of the war on the "Home Front" over a year in Homer's life are depicted in a series of perceptive vignettes—some amusing, some grave, some ugly, some touching, some sentimental—involving himself, his family, friends, and neighbors in his California hometown, and his brother Marcus, a Private in the U.S. Army. The storyline is introduced and directed by a narrator, Homer's father, who has been dead for two years. Like his character "Homer," the teenaged Saroyan worked as a telegraph messenger in Fresno, CA.

Saroyan was not at all happy with the film as completed by Brown. As told by Hank Saroyan in the documentary film "Lights! Camera! Saroyan!", he kept the Oscar statue in his garage and was using it as a hat holder. Among the noticeable differences between the film and the novel are a more vivid characterization of the four-year-old Ulysses, stronger social criticism, and far fewer sentimental scenes than were incorporated into the film by Estabrook and Brown. It would be fair to say that movies were never anything more than an amusing diversion to William Saroyan. ''He was much more concerned and involved with the theater,'' Aram Saroyan confirms.






Every MGM record in the Astor Theatre's long history has been broken by "The Human Comedy."

Sources:

The Human Comedy at IMDb

The Human Comedy at AllMovie

The Human Comedy at the TCM Movie Database

The Human Comedy at the American Film Institute Catalog

The Human Comedy at Rotten Tomatoes

SAROYAN'S 'COMEDY,' SCREEN TO STAGE at The New York Times