Story by Melissa Mendonca
THE HOUSE AT 2729 West Griffith Way in Fresno doesn't immediately stand out to passersby. Although a plaque outside indicates it as the home of writer William Saroyan for the last 17½ years of his life, the facade is modest and belies the high-tech innovations inside.

"The exterior of the house has stayed the same because it's on the historical register," says Zar Der Murgdechian, manager and docent of the Saroyan House Museum, which opened on Saroyan's birthday, August 31, 2018. When purchased in 2015 as a foreclosure by the Renaissance Cultural and Intellectual Foundation, however, the home was in shambles and needed to be gutted. "They really had to think creatively about how to present Saroyan's persona," says Der Murgdechian.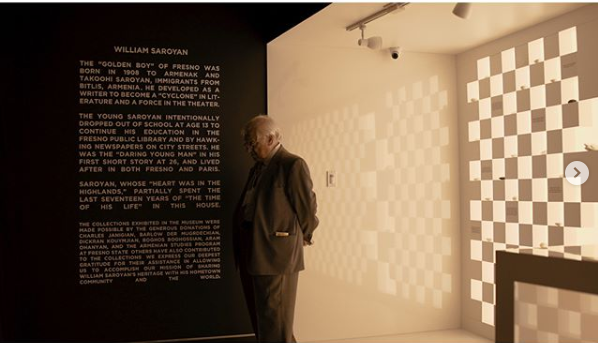 The story of Saroyan is told not through his effects, for these aren't included in the museum at all, but rather archival material displayed in a way that invites visitors to interact and reflect on what inspired him. "He was very closely tied to natural materials," says Der Murgdechian. "He would bring home rocks and shells and feathers." Thus, the first exhibit in the main gallery is a collection of what Der Murgdechian describes as "50 to 60 rocks of different shapes that he actually had but they've been 3D printed."

The exhibits continue with videos of various lengths about Saroyan and a wall of photographs that light up as one walks past. "It's very interactive," says Der Murgdechian. Another wall displays enlarged copies of Saroyan's 60-plus books in various translations. His artwork is also on display. "He was always creating something," says Der Murgdechian. "If it wasn't with words, it was with art."

In purchasing the home of the writer, and developing the exhibits as they have, The Renaissance Cultural and Intellectual Foundation writes that "the aim of the project is to reveal the character and nature of the writer, allowing one to experience the lesser-known aspects." The effect of the Saroyan House Museum is something Der Murgdechian sees every time she guides visitors through the exhibits. "I've seen people in different groups literally crying, so overcome with emotion to be there," she says. "When they read his work, it resonated." She admits some are disappointed when they don't see what his environment was like, having expected the house to be set up as if Saroyan still lived there. Many, however, are impressed by the thoughtfulness behind the presentations.

"The team in Armenia created each of those displays," says Der Murgdechian. "They came in and put it all together and then they left." While organized and funded in Armenia, the Saroyan House Museum will eventually transition to local control and funding.


Read the full article here: http://www.enjoysouthvalley.com/2019/10/24/288816/the-william-saroyan-house-museum